Marine Recruit Depot, San Diego, California Battalion 373

Oklahoma City Times enlistment announcement 1958.
Orders to Report, Note the amount of money allotted by our U.S. government
BAR Familiarization Rifle Inspection
Mail Call


Tent living at the rifle range. Rifle cleaning is a requirement
Dress Blues Album Pictures


Boot Camp Graduation Picture Oct. 1958
Home on leave with Friends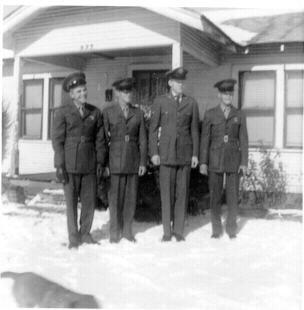 Stanley Slemp, Donny Mooney, Dennis Mooney, Tom Holmes
Taken at the Mooney household Winter of 1958.
Leaving the 7th Marine Div. at Camp Pendleton and on to the Philippines
Certificate given by the ships captain of the "T-AP General E. D. Patrick" for crossing the 180th Meridian on our way to the Philippines. This military sea transportation service troop ship was named in honor of General Edwin D. Patrick, who was a division commander in the Philippines in WW!!.

MP duty at Sangley Point, Philippines

Submarine "Sealion", U.S. submarine sunk by the Japanese in WWII, raised and refitted by the Japanese and then sunk by the U.S. so it could not be used against them. Now being raised again for salvage in 1959. Sangley Point, Philippines
Quonset Hut living while stationed at remote Radio Transmitter site Bago Bantay, Philippines
Last Duty Station MCAAS Marine Air Station, Yuma, Arizona
Going Home papers after 4 long years, Oh happy days!
DD214 discharge from active duty


Honorable Discharge after 2 additional years of inactive reserves