"A Special Trip"
Well here it was, the end of July 1977 and time for the three week motorcycle tour for me and my son. It all started after reading "I will fight no more forever" about chief Joseph of the Nez Perce Indians. I wanted to see the actual locals and get a sense of the hardships endured as they fled the Wallowa Valley of Oregon (their homeland).
This was to be a first in many experiences (two up touring, longest tour ride, camping with my son John and visiting the Northwest USA). Previous tours had included solo riding with friends in the Baja Penninsula and mainland Old Mexico. Since California was in its third year of drought conditions, I was hoping for dry riding weather. It was not to be.
My main concern was with John (13 years old). Just how would he take to sitting still for the miles to come and could I be tolerant of his boyish attitudes which I was sure would try my patience to their limits. Anyway we were committed to whatever happened and determined to see it through come what may.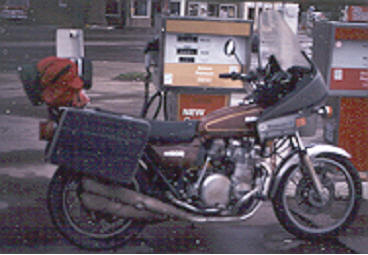 I had new shocks installed and I had replaced the drive chain in anticipation of the additional load. Now, I felt that the Kawasaki KZ900 was up to the task. I had never had a more maintenance free motorcycle or had a more secure feeling about any other machine to handle its task. This bike had gotten me to the tip of Baja and back on Mexican regular gas without a whimper.
After our gear was assembled and ready, I decided to adjust the rear shocks for the expected load and got my first surprise, my stock spanner wrench no longer fit and the dealers were closed for the day. We would be leaving before the dealers opened in the morning. I wondered if this was an omen of things to come. I decided that I could get a wrench somewhere down the road as we were not leaving the US after all.
The 7:00 am sendoff had come and gone and here we were heading north out of San Jose, California. A sudden realization came over me about what motorcycling was for me. I was not only moving across distance and time here and now, but my mind kept taking side trips to other times associated with the sights and smells playing across my senses. There was the alfalfa smell taking me to a time as a young boy in some grassy field. Another was the odor and temperature that was taking me to a particular time in Oklahoma during football season. No wonder people love to ride as it seems to be a totally mind relaxing time warp. Once aware of this, I couldn't wait to make my next escape just for the adventure of it. Just to the right was a partially framed house with the wood smell permeating the air and yes, there I was just like that back in the second house that I can ever remember living in with housing going up all around the neighborhood. I recalled the fun of playing in these partially finished houses and what adventures there were. I looked back to see if I could detect John having any of these adventures but he just seemed bored. This must be why you see so many of the older generation taking up riding today.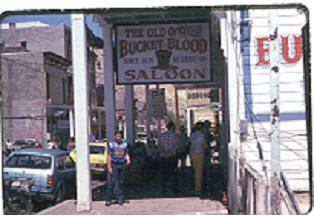 We had gone about 120 miles when the bottoming of the suspension had begun to unnerve me a little so we decided to stop in Stockton, California and look up a dealer in hopes that he could pre-load the stocks for me. It was still too early and not wanting to delay this adventure, I went to a gas station and borrowed their water pump pliers. After two skinned shocks and one skinned knuckle, we were back on the road.. Up and over Carson Pass and a short trip to Virginia City, Nevada.
It is posted that Mark Twain was held up on a stage coach just out of town when he lived here. We toured the town, played some nickel and penny slots and had a bite to eat.
With our curiosity satisfied we pointed out to Reno, Nevada. Our first planned over night stop.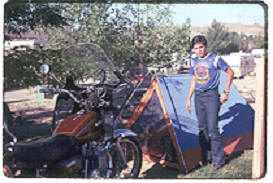 We opted for the KOA campground and soon had our tent pitched and dinner cooked. This was to be the highest priced campground for the whole trip ($6.50). We visited a local market for the next days breakfast supply (ready made pancake mix).
At first light we were up and cooking breakfast on the bunsen burner stove. This was not a good choice as the store bought pancake batter would not cook completely and we settled for some half cooked pancakes for breakfast. At first light we started out on highway 395. Even though it was August, we made a quick stop to put on our leather jackets until the sun had warmed things up a bit.
By the time we had reached the Oregon border, it was unbearably hot and we were down to short sleeved shirts. This part of Oregon reminded me of Baja California with its intense heat. We stopped in John Day, Oregon for a break and to take on some liquids. John's spirits had fallen to an all time low and my tolerance for heat had just about reached my limits. We decided that the Wallowa valley (where chief Joseph had started) could wait for another trip at another time. We opted to detour over to Boise, Idaho and into Jackson Hole from there. We would pick up chief Joseph's trail at Yellowstone Park. Well John's attitude changed immediately and you would have thought we were on our first days ride.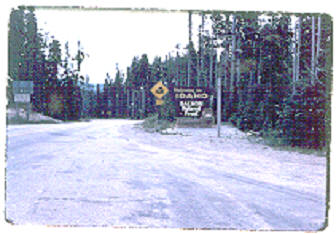 That evening we made Boise and John had made his first 600 mile in one day ride. I knew then that there was no need to worry about the long ride ahead. Now we were just two bikers in search of adventure.
The KOA in Boise was more reasonable ($4.50) and prettier. It was grassy campground on a lake but included a massive swarm of mosquitoes. John survived the ride but sort of slithered off the bike and I had to coax him into helping with the tent. After a restaurant dinner, we showered and fell to sleep rather quickly. If the mosquitoes were bad that night we will never remember.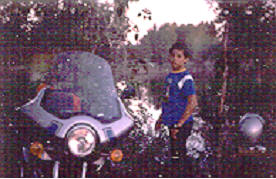 We had missed the Wallowa valley, but Idaho proved to be a much cooler ride and John was more content with the conditions. However Idaho did bring one other discomfort which seems to go with the tourist season (road repair). We fended off a lot of tar and pea gravel pellets that was being thrown by all passing vehicles. It is not bad manners in this case if you don't wave and grin at passing vehicles.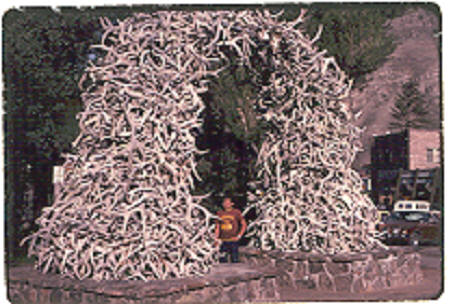 We arrived in Jackson Hole with plenty of time to unload into a motel and go out for a little sight seeing. There is more history there than we had time to explore with some of the prettiest riding country ever encountered. The four corners of the town square is arched with intertwined deer and elk antlers. That night we walked the town and went through the various shops. There were several local artists painting in the different art galleries.
The next morning we headed out through the Teton Park on our way to Yellowstone. We decided to stop at a roadside teepee café for breakfast. Here was breakfast cooked over an open pit barbecue with our own view of the Teton mountains.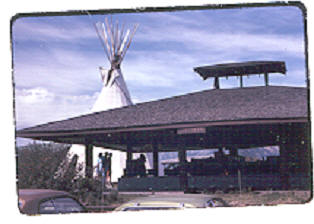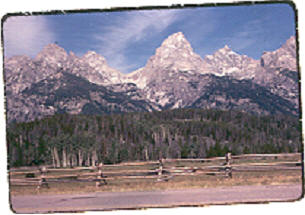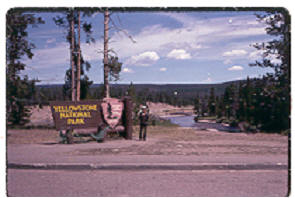 After breakfast we had a short leisurely ride to Yellowstone Park. The nice surprise at Yellowstone was that the Teton park permit also allowed entry here.
By the time we got to Yellowstone it was 2:00 pm and to our surprise all campsites were full. It turns out that most are gone before 9:00 am. Also tent camping is limited because of bears in certain areas. Our first night was spent at a motel in West Yellowstone and we made sure to place an early wake up call. West Yellowstone is more of a tourist trap but it did have some good cafes to choose from.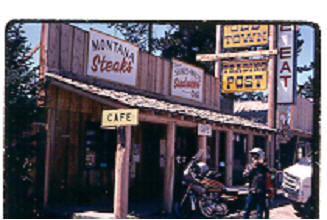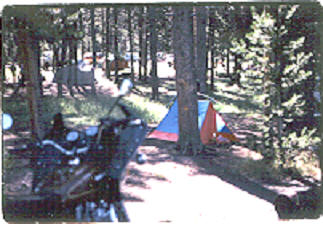 The early wakeup and swift ride to the Yellowstone campsite area barely got us a campsite. Some Harley bikers from the night before gave us theirs as they were leaving.
Within 15 minutes of getting settled in, a Florida couple on a Harley came by looking for a campsite. We offered to let them share our site but they insisted on finding one of their own. Later they were back and more than glad to share our campsite. All campsites were full and it was not even 9:30 yet.
Touring the park by motorcycle was fun and there was never a hassle to find a parking place. However, it was sad to watch the people in their luxurious motor homes with the hassled looks on their faces and screaming children being dragged along. I couldn't help but admire John as we went from sight to sight, always eager to see what would come next. I wouldn't have changed places with those motor home people for anything.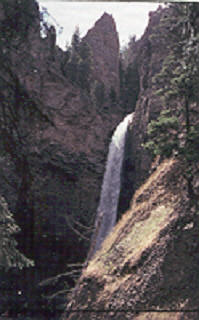 We hiked to the bottom of one of the bigger falls and I didn't think that I would make it back out. I remember John was also dragging on the climb out.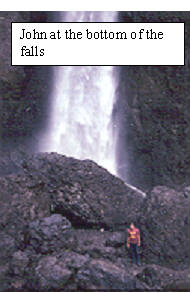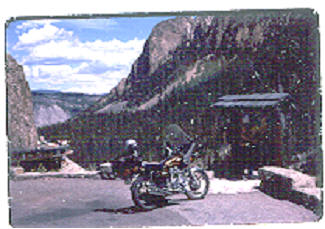 The Kawasaki was holding up well for all the stopping and starting that it was being put through.
John insisted on seeing the moose that the park ranger had mentioned. We had to wait until sunset and go to a certain part of the park but we did manage to see a couple of moose silhouettes and could hear them grazing. Riding through the park after sunset to find a place to eat was a bone chilling experience and John stuck his hands in my jacket pockets to keep them warm as he had no gloves. Even with gloves my hands were pretty well numbed when we finally found a place to eat. We made the restaurant just before closing time.
That night brought one of the many rains to come on the rest of the trip. Lying there with my son in the tent and listening to the rain seemed the most natural thing in the world and I was soon peacefully asleep.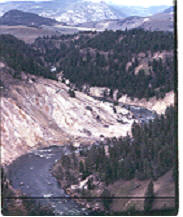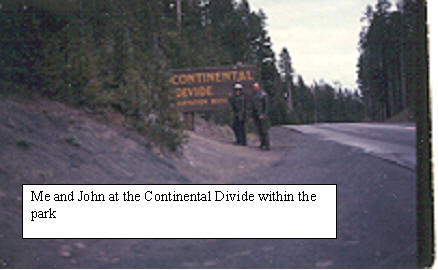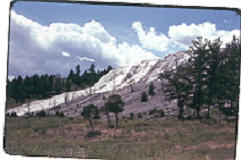 The next morning's breakfast was a disaster and we learned about high altitude cooking with a bunsen burner campstove. We decided the eggs were never going to cook and opted to pack and leave instead. We headed out for the "Big Hole Battlefield". We stopped for breakfast along the way and John ordered his regular eggs and hash browns. When the hash browns were brought out he mentioned "These aren't like mother used to make".
On the way we went through Nevada City, and Virginia City, Montana. Although it seemed strange for names in Montana we did stop and have a look around. There was a vintage train (we walked through for a small fee) and the old parts of town. There were the red light cribs and Chinese area with its laundry building. All were built log cabin style and was very well preserved.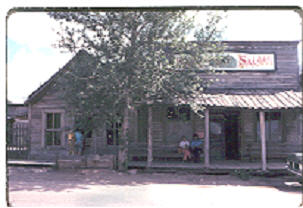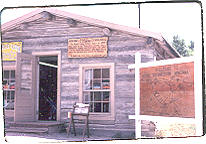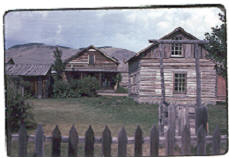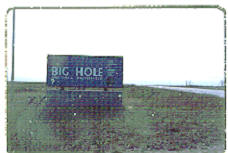 At last we arrived at the Big Hole Battlefield, this was the first big battle Joseph and his band had with the cavalry after crossing Yellowstone Park. It was a pre-dawn sneak attack by the U.S. cavalry. Joseph and his band managed to route the attack and get away. This was the 100th anniversary of that battle and all of the rifle pits and battle grounds were being marked to identify how the battle was fought. This was an unexpected surprise. We visited the visitor's center and the Indian camp grounds and were the first to review the pamphlet made for the occasion. The park ranger gave John a pre-published copy to keep as they were still laying out the battle markers. There was to be a big ceremony in two days but we were pressed to keep to a schedule and had to miss it.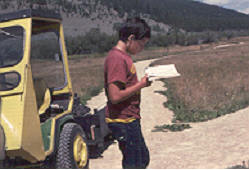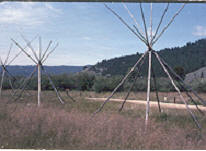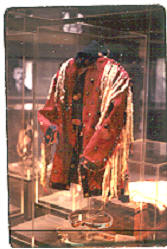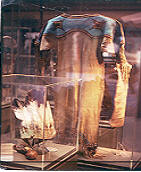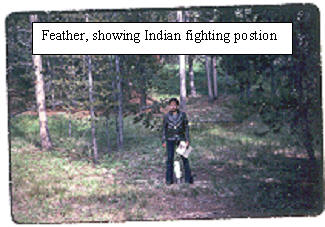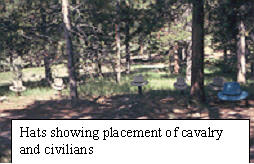 Leaving the Big Hole Battlefield we started working our way toward Great Falls Montana via some very interesting Montana back country.
We had breakfast at one of those mom and pop dinners along the back roads. John commented that the hash browns weren't like mom used to make. The motorcycle was performing flawlessly and any seat discomfort was either unnoticed or so slight as to be unnoticeable. Montana seems to have more old abandoned and populated log cabins than any other state that I have been in. I was only able to stop at and photograph a select few of the historical markers so we would have something to read and remind us of where we had been.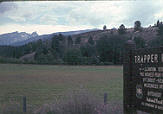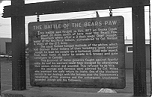 John still swears that I stopped at every one. I would stop and take a cigarette break and John would remove his helmet and comb his hair. Never did understand who he thought might see him. With the sheer delight of the curving roads I was hoping that John was enjoying this as much as I was. It was to be a once in a lifetime trip. Near the Rosebud Indian reservation there was a small Indian souvenir shop that sold items on consignment. I bought two pair of moccasins, one heavily beaded with stiff soles and the other was lightly beaded and very very soft for house slippers.
We entered Missoula, Montana in the early afternoon and I felt the clutch cable give and slip adjustment at a red light. I pulled into a service station to make the re-adjustment and discovered that the cable had actually frayed and was about to break. I located a local dealer and we made our way over there. He not only loaned me a special offset wrench that eased the task but he stayed open past closing time to allow me to change out the cable.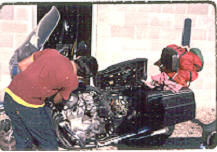 John pretending to work on the bike.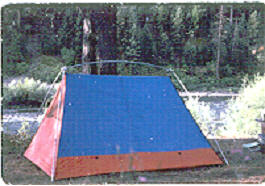 On our way out of town we noticed a nice little camping area on the Blackfoot river.
I asked John if he wanted to stop but since we were behind our self appointed schedule he wanted to continue in the direction of Great Falls.
65 Miles down the road we could see a sheet of rain about 10 miles ahead so we returned to the camp ground anyway. By this time the stores were all closed so we bought a pound of frozen hamburger off the woman that ran the campgrounds. The campground was only $3.00 but what a luxury. There was fireplace wood at each campsite and all of this on the Blackfoot river right off highway 200. The woman loaned us her charcoal to cook the hamburger. Now frozen hamburger tends to fall off in little pieces as it is cooked and I was eating some of the smaller ones before they fell into the charcoal. John considered this as an attempt to eat more than my share. It's the little things that are annoying.
I fished a little the next morning without luck and then we started off for the "Bear Paws Battlefield" near Chinook, Montana. We had breakfast at another mom and pop café. When they brought out his burned hash browns John said "Look, just like mother used to make!" I just had to laugh.
The Bear Paws Battleground which was founded and kept up by the Daughters of the American Revolution Society is somewhat run down. Some of the plaques have been removed but you can still see the original rifle pits. This is where Chief Joseph and his band had to give up to General Miles just 15 miles from the Canadian border (their objective).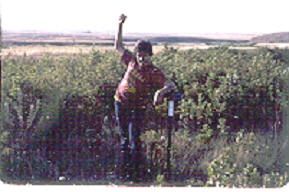 With diligence, we did manage to discover Chief Joseph's tent site and the surrender site for pictures.
We stayed in Havre that night and did some laundry at a local self serve laundry. All the young cowboys were coming in from the hay fields that we had seen that day. They were showering in the public showers before going out for some fun on the town. Even in August it was freezing shallow dishes of water outside at night. It was like a California winter so we just turned up the heat and fell asleep. The next morning I found a pawn shop where the local Crow Indians would pawn all kinds of hand made items. I bought a warrior style breast plate and a small Indian rug and had them shipped home.
Leaving Havre we made the ride to the Custer Battlefield. We did the tour and took more pictures.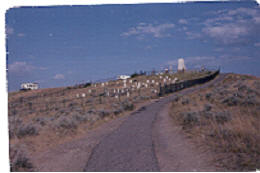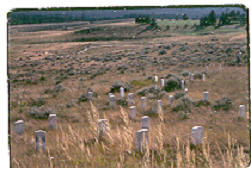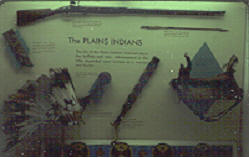 Next we turned South and decided to go through Rapid City, South Dakota. On the way the rain was so bad that we had to stop at a small grocery store to take refuge . We bought bread and meat to make a lunch. Since I had bought 1 beer they said we could not stay inside. Actually, the husband and wife were fighting and did not want us around. We ate outside under a small overhang and moved on.
Rapid City was a busy place this August of 1977. They were having a motocross, state fair, the Sturgis motorcycle rally and Elvis was in town. On top of this we had just ridden through miles of rain into a hail and tornado producing thunderstorm.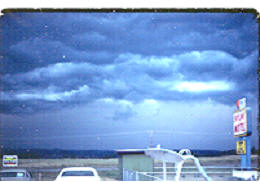 No rooms were to be had anywhere. We hooked up with two young motorcyclists and they said they had seen an available room a few miles up the road. There was one room left but they would not let the four of us stay in the same room. While we were each trying to be gracious they rented the room out from under us and suggested that we step out of the lobby.
While we were outside discussing our dilemma a young (good looking) man rode down from Mt. Rushmore with his rain suit top ripped off by the hail. He said the hail got so bad that he finally jumped off his motorcycle and took refuge under a tree.
We told him there were no more rooms but he decided to try anyway. The counter girl fell head over heels and the next thing I know the five of us were staying in the last (I think) dry room in Rapid City. I didn't question it even though he was married. She wound up driving him into town for a six pack for us and some late night talking for them. Her mother finally broke that up when she caught them being a little too chummy.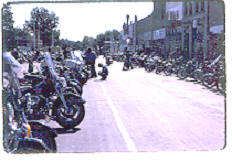 The next day John and I followed the two young guys over to Sturgis and had breakfast. I asked the waitress if any of the bikers had been giving her trouble. She said "No, but there was a girl that was pulling down her pants and posing for pictures on main street the day before". Wild crowd, we left.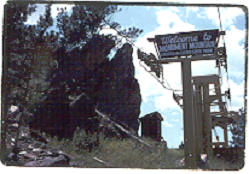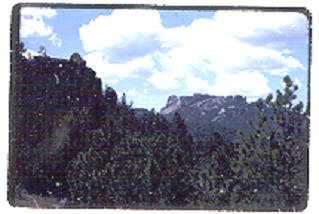 We decided to go up to Mt. Rushmore and see the president's heads. With all the stop and go up the hill behind all the other tourists to queue up for parking I was afraid I might lose another clutch cable, but it held. We decided to take the ski lift up and shoot some photographs. We headed into Colorado and arrived in Denver that night. I looked up my niece Joan and we spent the night at her apartment.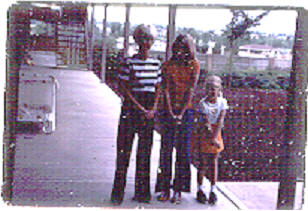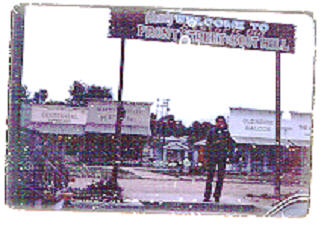 The next morning, I finally did an oil change and tightened the drive chain. Leaving Denver we headed east for Kansas figuring to drop down from there into Oklahoma City and visit my parents and relatives for a few days. Just outside Dodge City, Kansas (of Marshal Dillon fame) was a scenic overlook so we stopped. Well this scenic overlook overlooked a stock yard and smelled to high heaven. We decided not to dally and moved on. Old Dodge was also a disappointment as it was just a bunch of fake storefronts and one small museum. We did the museum and headed out for Oklahoma City. Our stay in Oklahoma was not only entertaining but provided us a chance to visit family and rest up for the long ride home.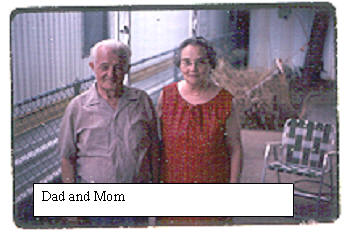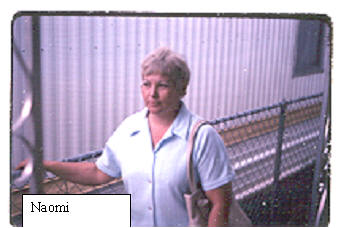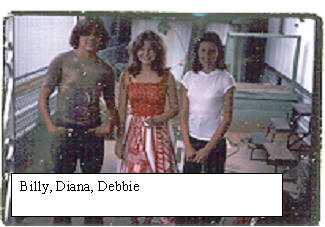 Leaving Oklahoma, we detoured down through Anadarko, Oklahoma in search of Indian memorabilia.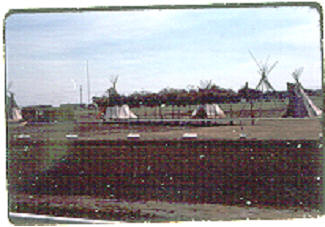 Some 60 miles due West of Oklahoma City on I-40 is the Cherokee trading post where there was a fair assortment of Indian crafts. I bought a hand made bow with arrows and had it shipped home.
We finally made our way into Amarillo, Texas and again camped at a KOA camp ground. We ate at the Texas Steer home of the biggest T-bone steak. If you can eat the whole thing it is free. John was irritated that I was wearing my motorcycle chaps into a restaurant but we were in Texas however. I had my first taste of rattlesnake here. It doesn't taste like chicken.
Next we pushed toward Albuquerque, New Mexico. About 20 miles out of Albuquerque, the sky was looking threatening so we pulled into a rest stop and took cover.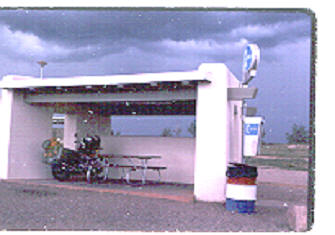 Soon however, we grew impatient and decided to try and make Albuquerque before the rain. Wouldn't you know, the sky opened no sooner than we hit the interstate. It was so hard that it was like someone was pouring buckets of water on us. We made Albuquerque in spite of it all. After checking into a motel, we heard on the news that Elvis had died (The King was dead).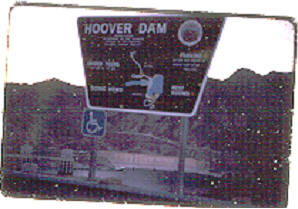 Starting the last leg home, we entered Las Vegas, Nevada. John did not want me to go out and gamble and leave him alone in the room. Even though I was irritated, I am sure that I did not have the energy to go anyway so we made an early night of it.
The next morning being refreshed, we pointed the bike into Death Valley, California. We saw signs of flooding and learned later that we had just missed a 100 yr. flood.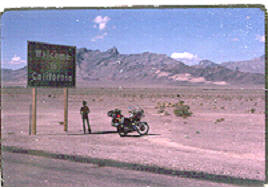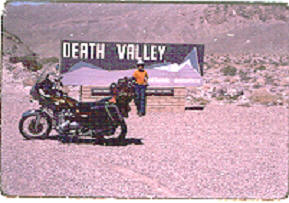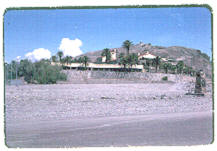 Being acclimated to the weather, the heat did not bother me as much as I thought it might. John did well also. Checking in at Scotty's Castle we found it was 110 in the shade.
We headed on into the backside of Yosemite over Tioga pass at 11,000 ft. We had just missed a hail storm and the temperature had dropped to 40 degrees.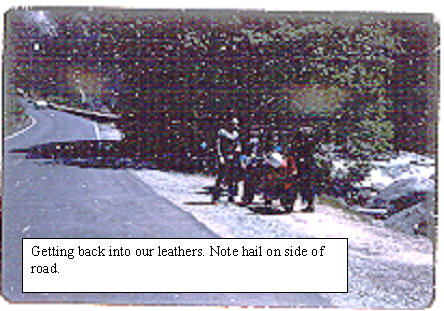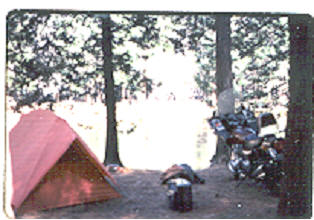 This time we took advantage of a shared camp site as all camp sites were taken. A couple in a camper offered us their left over small space toward the back where we could pitch our tent. Only if more people were like the campers we encountered.
From Yosemite it is a long days ride back to San Jose and that ended an approximately 6,600 mile road trip. One of the best trips of my life. Those last miles into San Jose left us tired and exhausted but feeling good overall. I have taken many trips in my life but that one ranks right up there as the best.